BHS THEATRE PRESENTS The Hobbit by Patricia Gray, based on the classic by J.R.R Tolkien. Oct 6th & 8th at 7pm in the BHS Fine Arts Center. Tickets are $5 presale & $10 at the door. Buy presale tickets from members of the cast & crew or Mrs. Roddy
Roddyaj@bps-ok.org
. #bvillebruWIN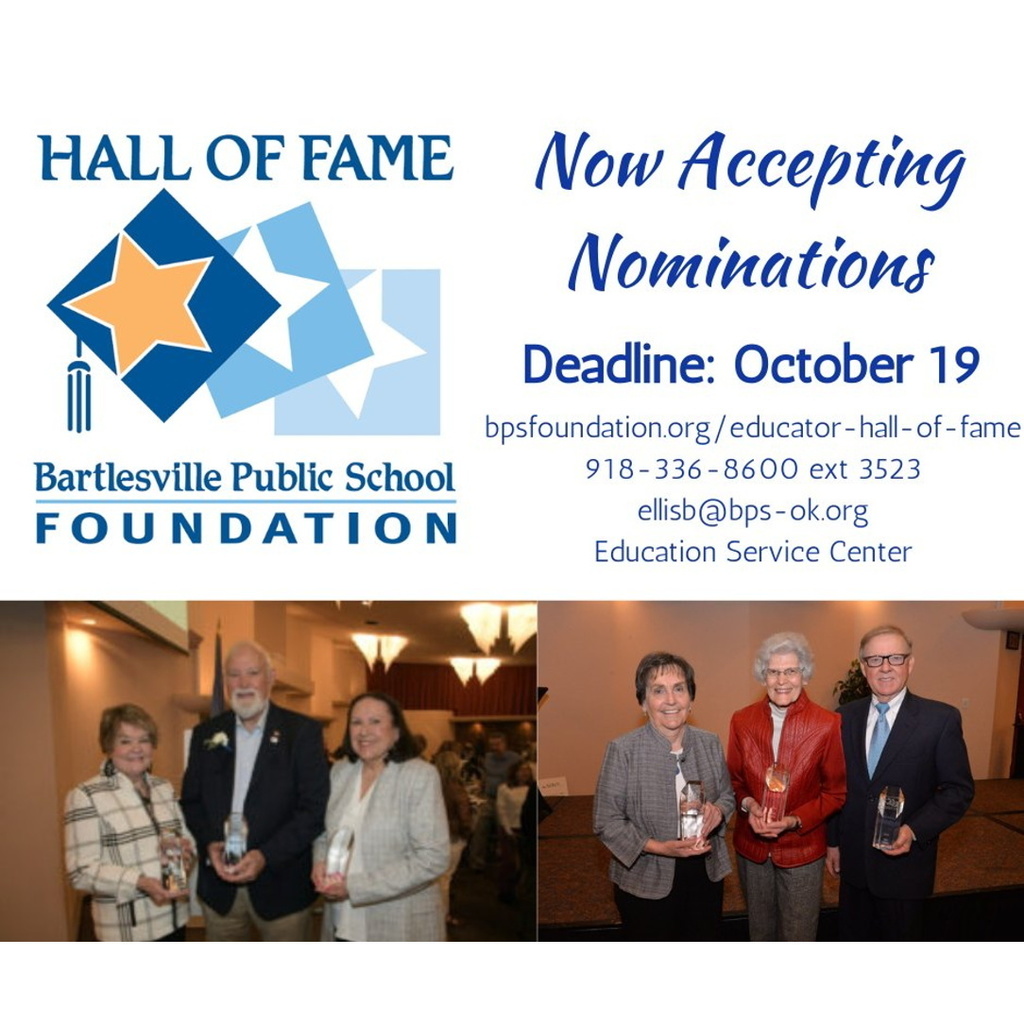 We will have our first high school Parent Support Group meeting tomorrow, September 8, at noon in the Freshman Conference room. We would love to have everyone join us in person this year but will have a google meet option also just in case you can't. Please come hear a report from our principal and counselor about what is happening at school. We will discuss some fundraising options and things we can do to help our teachers. Google meet link:
https://meet.google.com/aiv-shnf-tuv?hs=224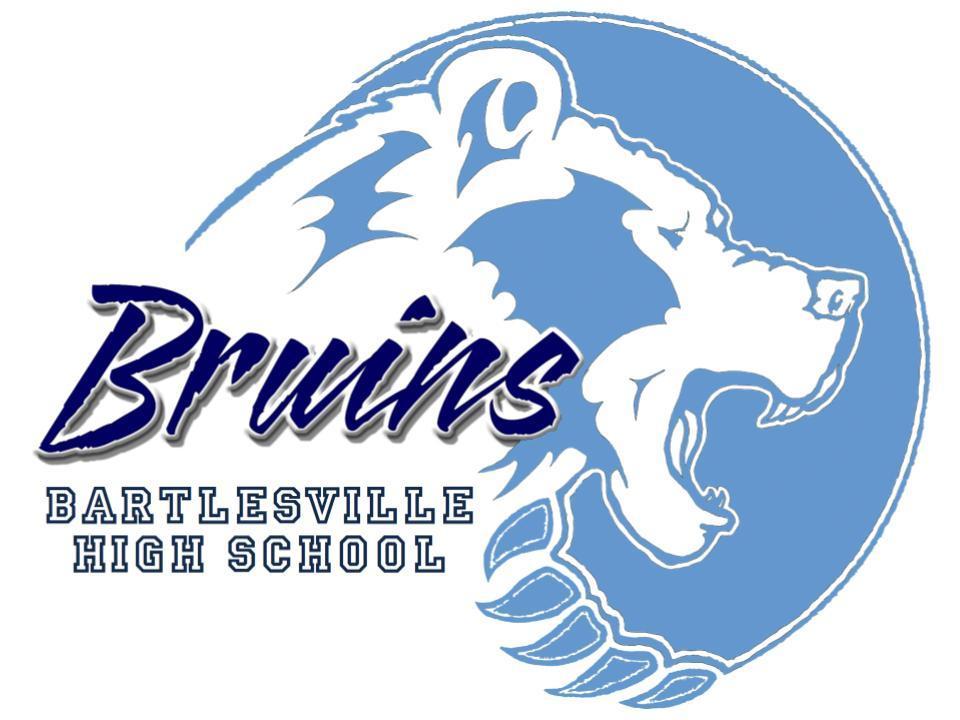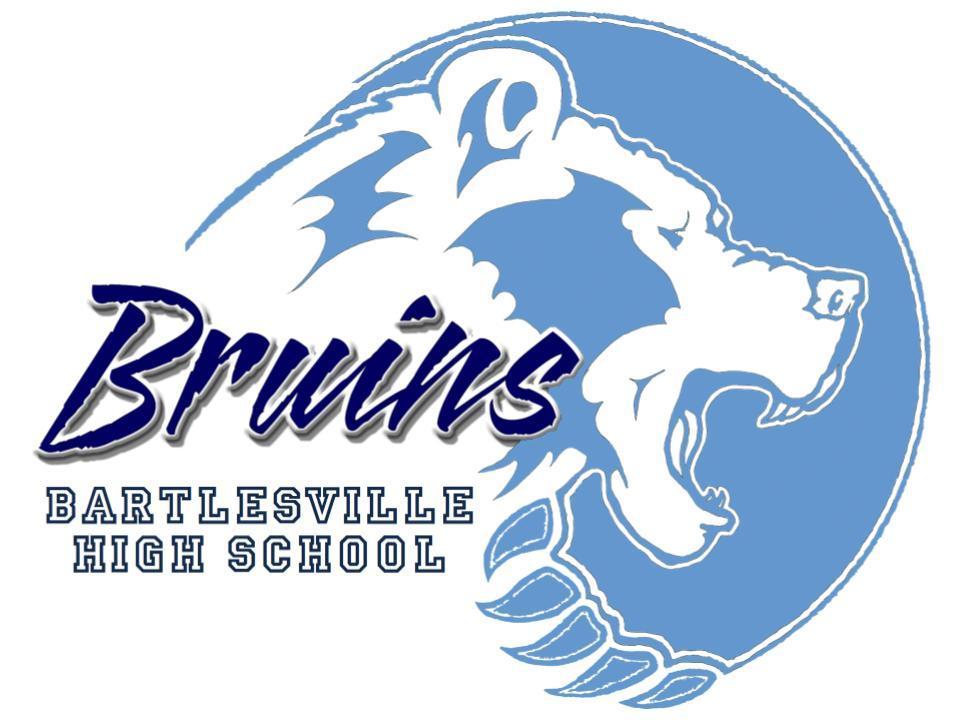 We are excited for Welcome Week 2022! We will also be having our Back to School Night on Monday from 5:30PM-7PM. A school messenger will be sent today with more information. We are excited to officially kick-off the school year and celebrate our Bruins! #bvillebruWIN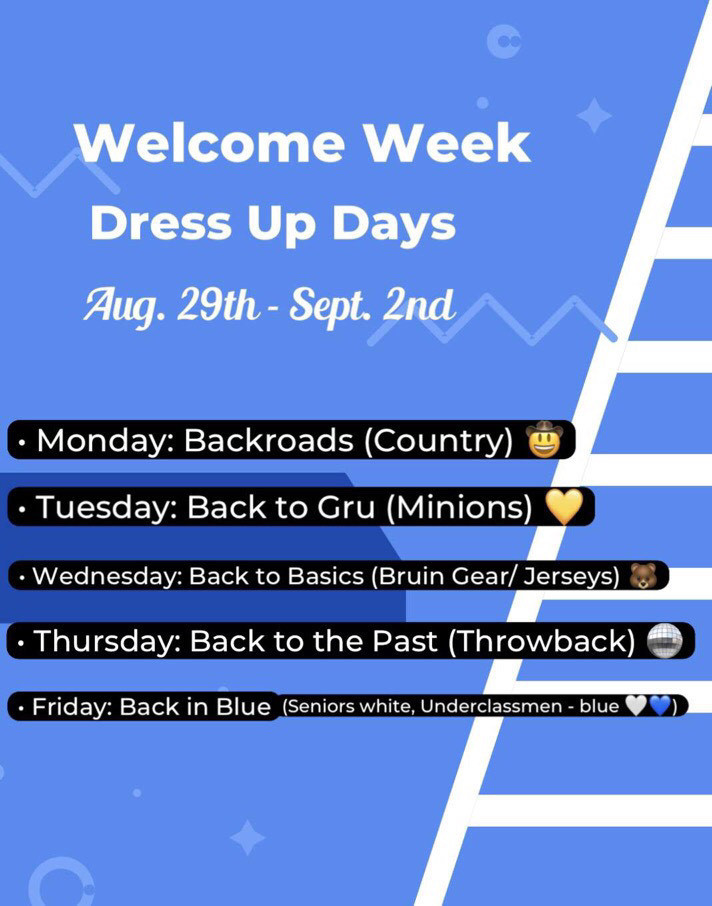 For those that missed basketball tryouts in the spring, 9-12th supplemental tryouts are this Thursday, August 18 at 4 p.m.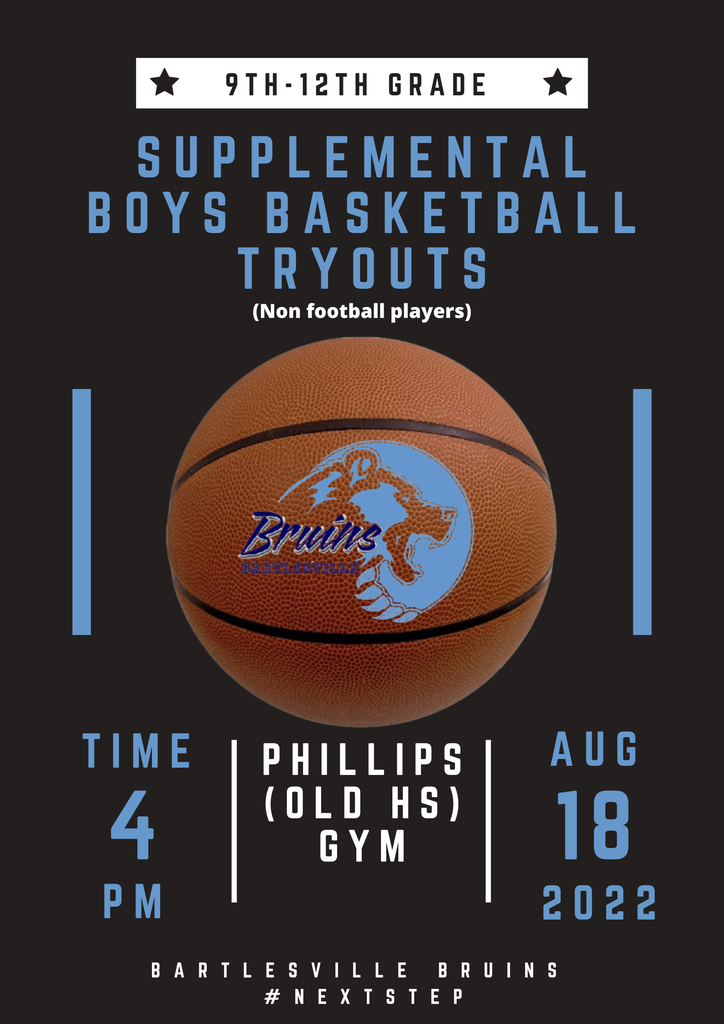 STUDENT ATHLETIC EVENT PAASES will be available to purchase on Tuesday and Wednesday, Aug 16 & 17 during lunch in the commons. Student passes are $30 and athletes are $20. Passes will provide entrance to all home athletic events for this school year! #bvillebruWIN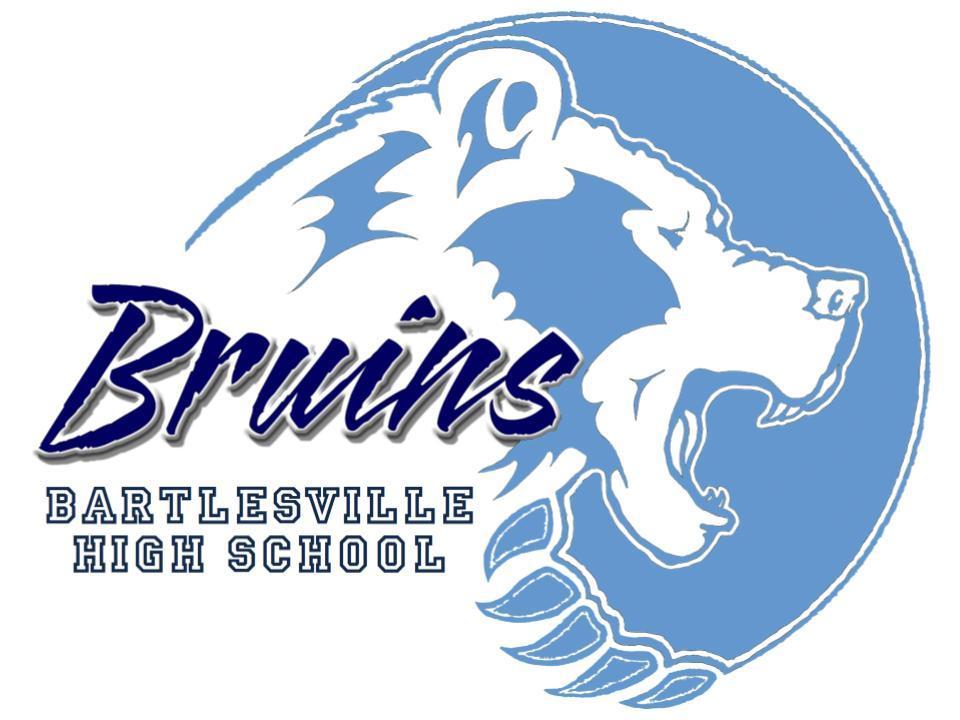 Bartlesville Bruins Team Shop is now open through August 23rd! Get ready for game day at bsnteamsports.com/shop/BVILLEBRUI.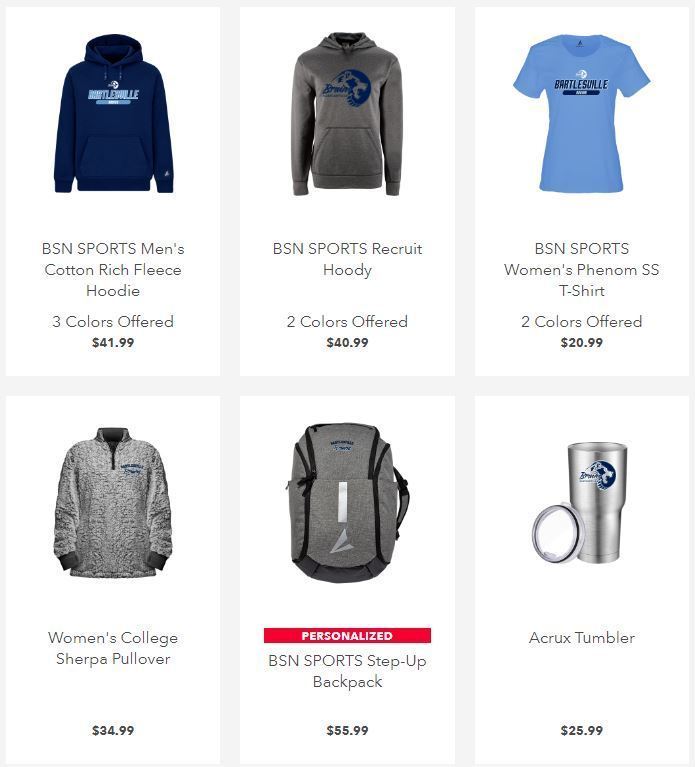 Tomorrow (Wednesday) we will be hosting RSU and OKWU for concurrent enrollment. They will be in the main lobby from 11AM-2PM. This year we will be having COMP 1 and Speech held on the BHS campus. We are excited for this expansion of concurrent classes on our campus. #bvillebruWIN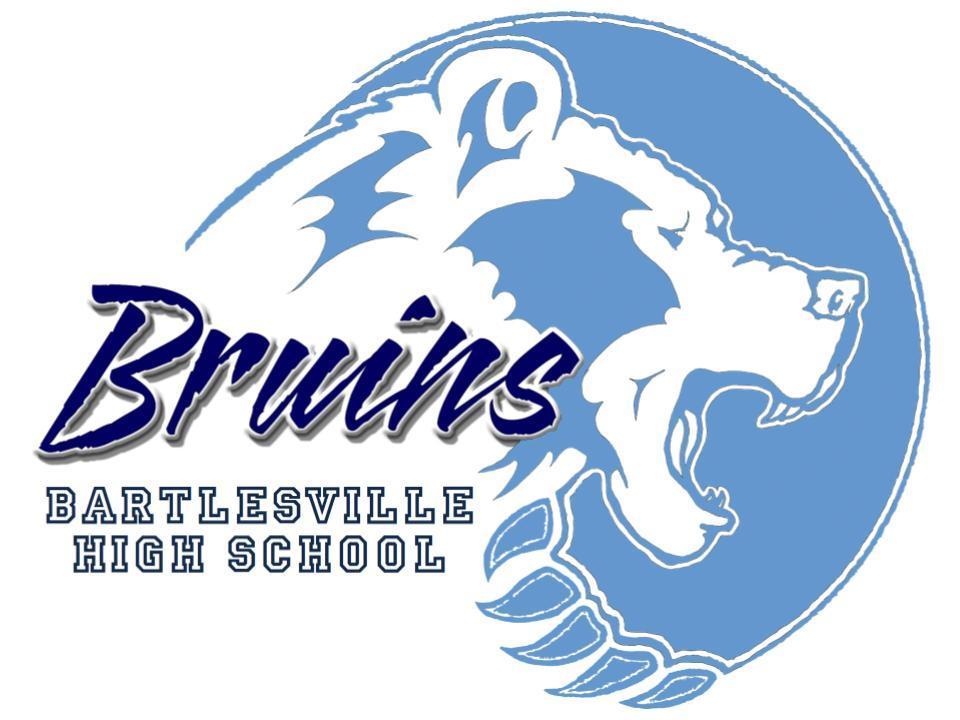 Thank you to our community our Bruin Brigade now has a new semi, trailer, and box truck from the 2021 Bond! #bvillebruWIN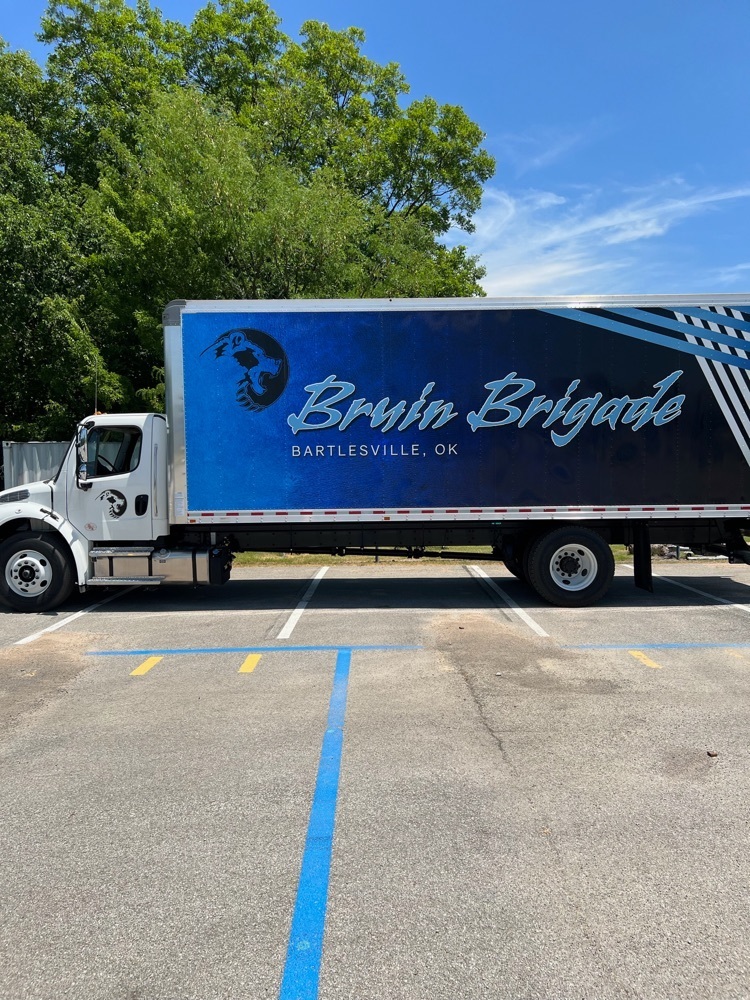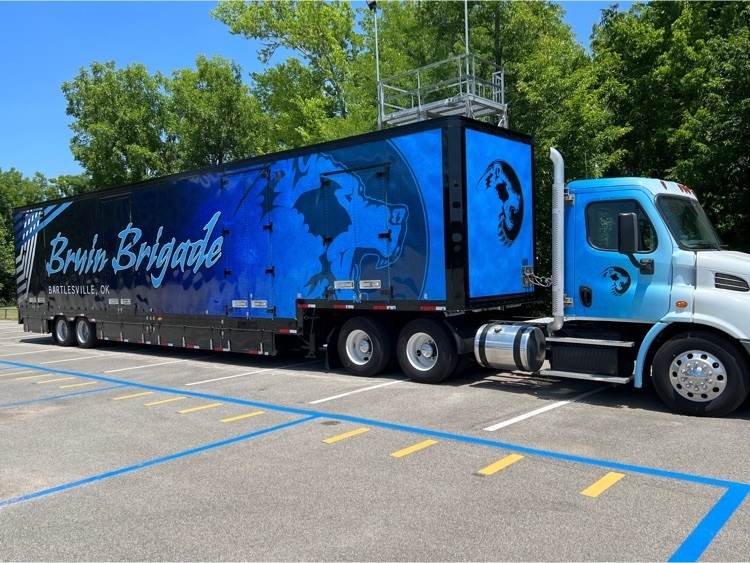 The BHS Campus will be closed July 1-July 4 for the 4th of July Holiday. Summer school for the July session will resume on Wednesday, July 6th. We hope everyone has a safe 4th of July! #bvillebruWIN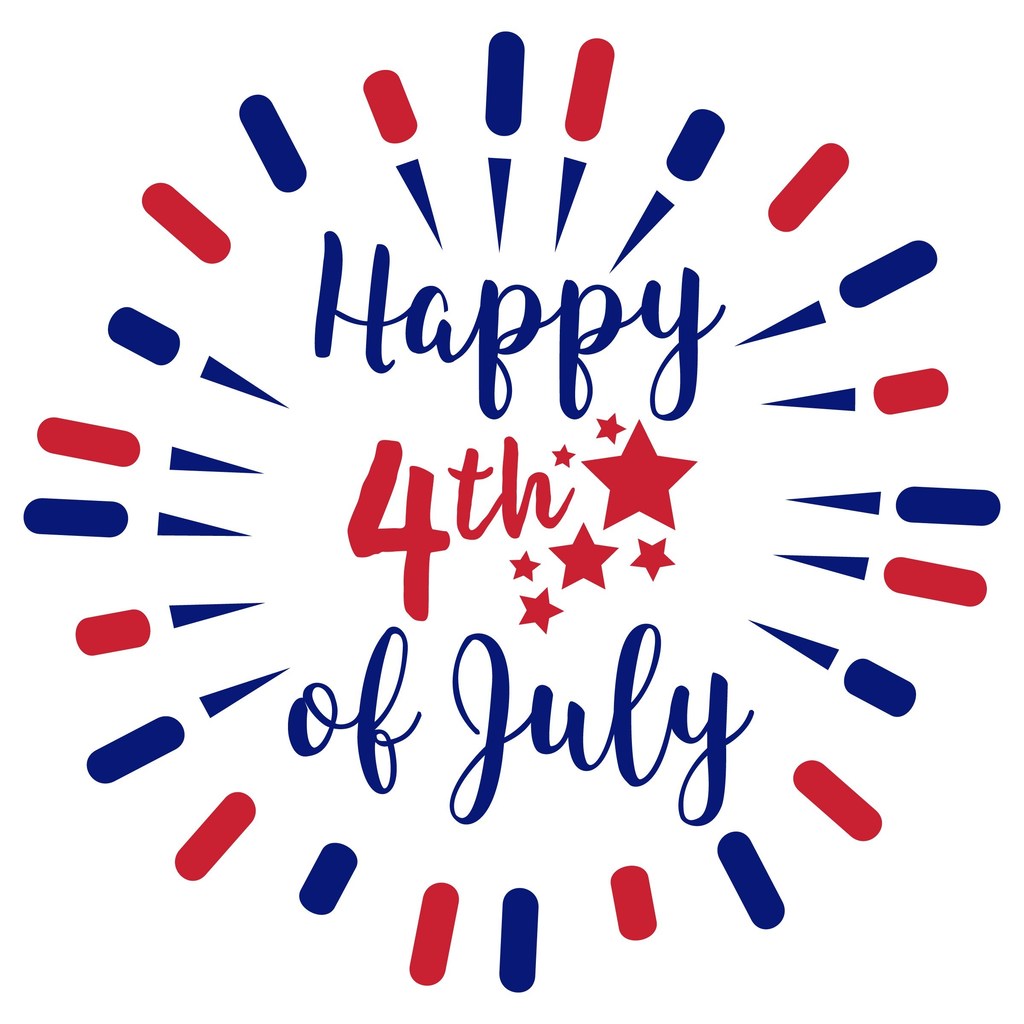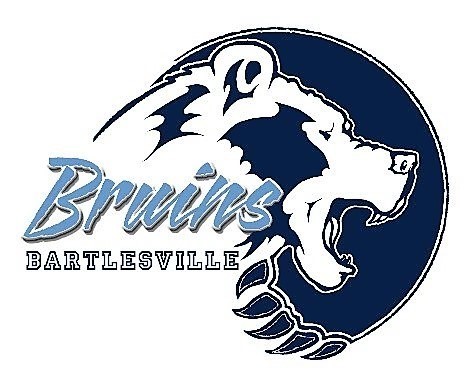 Class of 2022! You can now pick-up your diploma and graduation packet in the registrar's office near the BHS Main Office in room 120. Our office hours are Monday thru Thursday 8AM-4PM. We will be closed this Monday for the 4th of July. #bvillebruWIN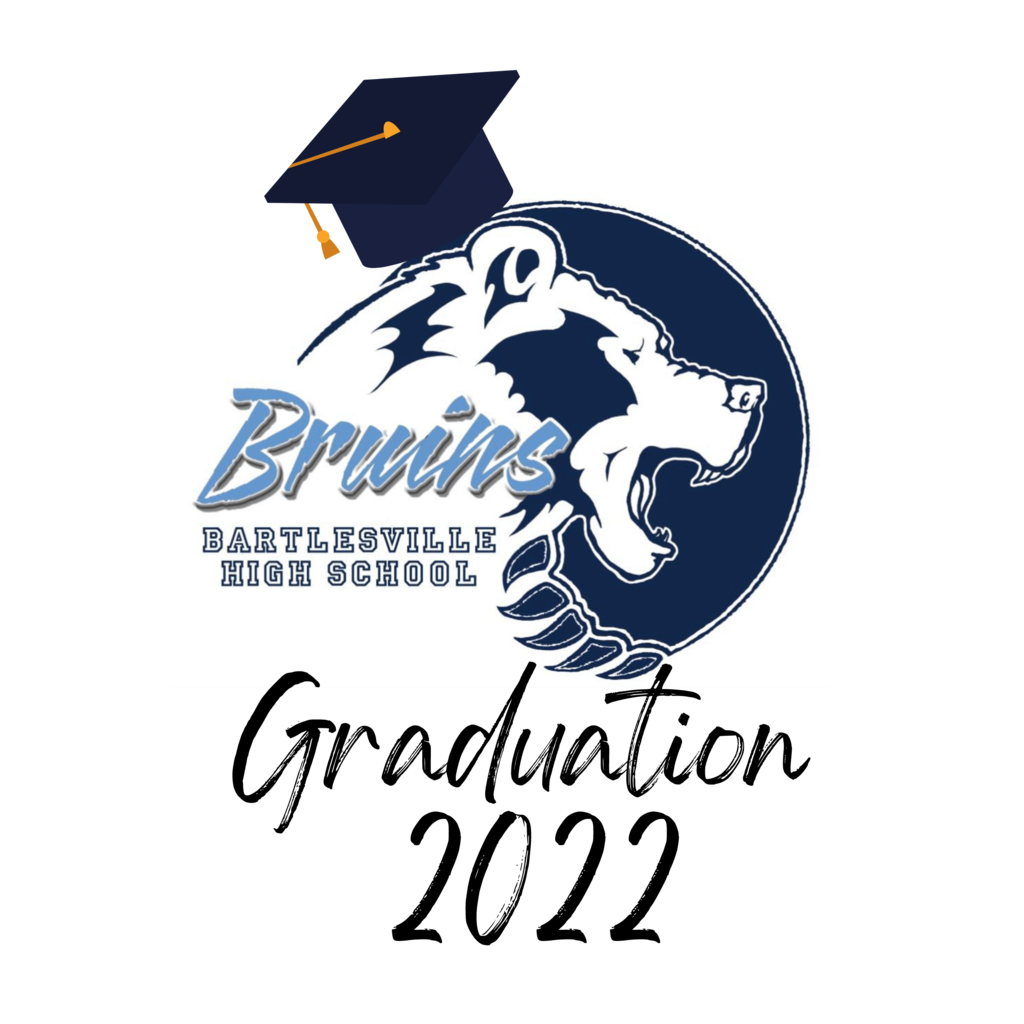 Support Staff Job Fair on July 11. Online applications also accepted at applitrack.com/bpsok/onlineapp. #bvillebruwin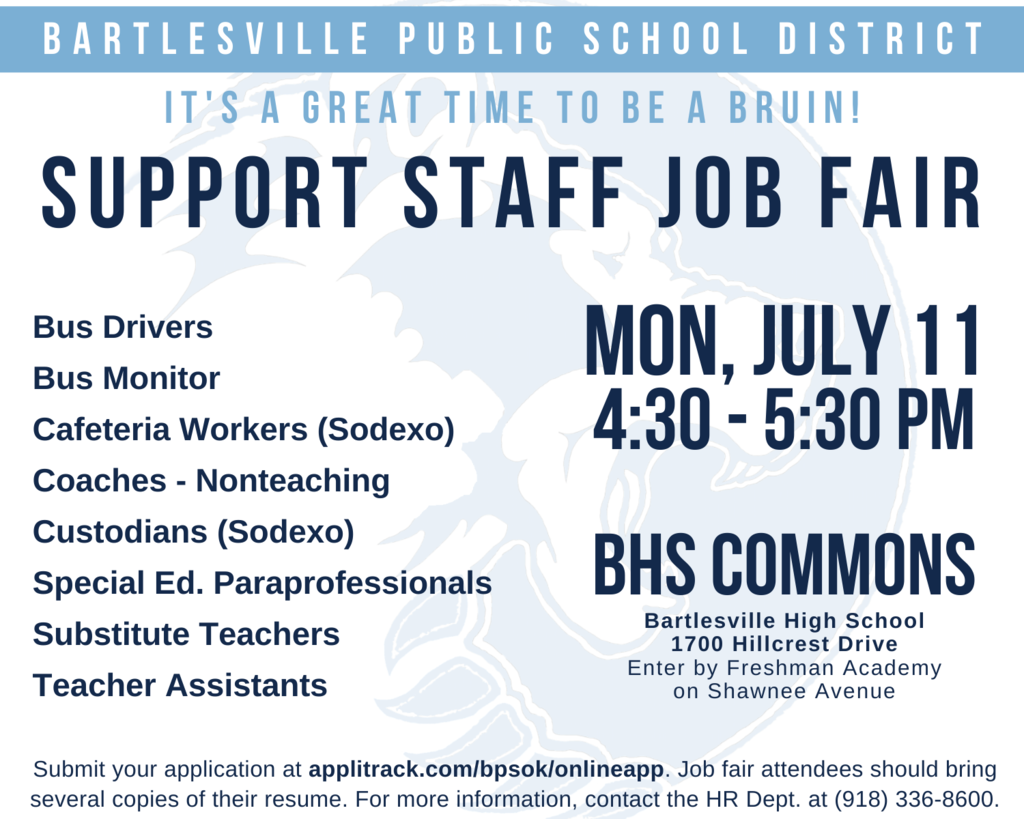 Due to approaching inclement weather, the Bartlesville High School Commencement will be an hour earlier on Friday, May 20. Gates will open at 6, graduating seniors should report by 6:15, and the ceremony will begin at 7 p.m.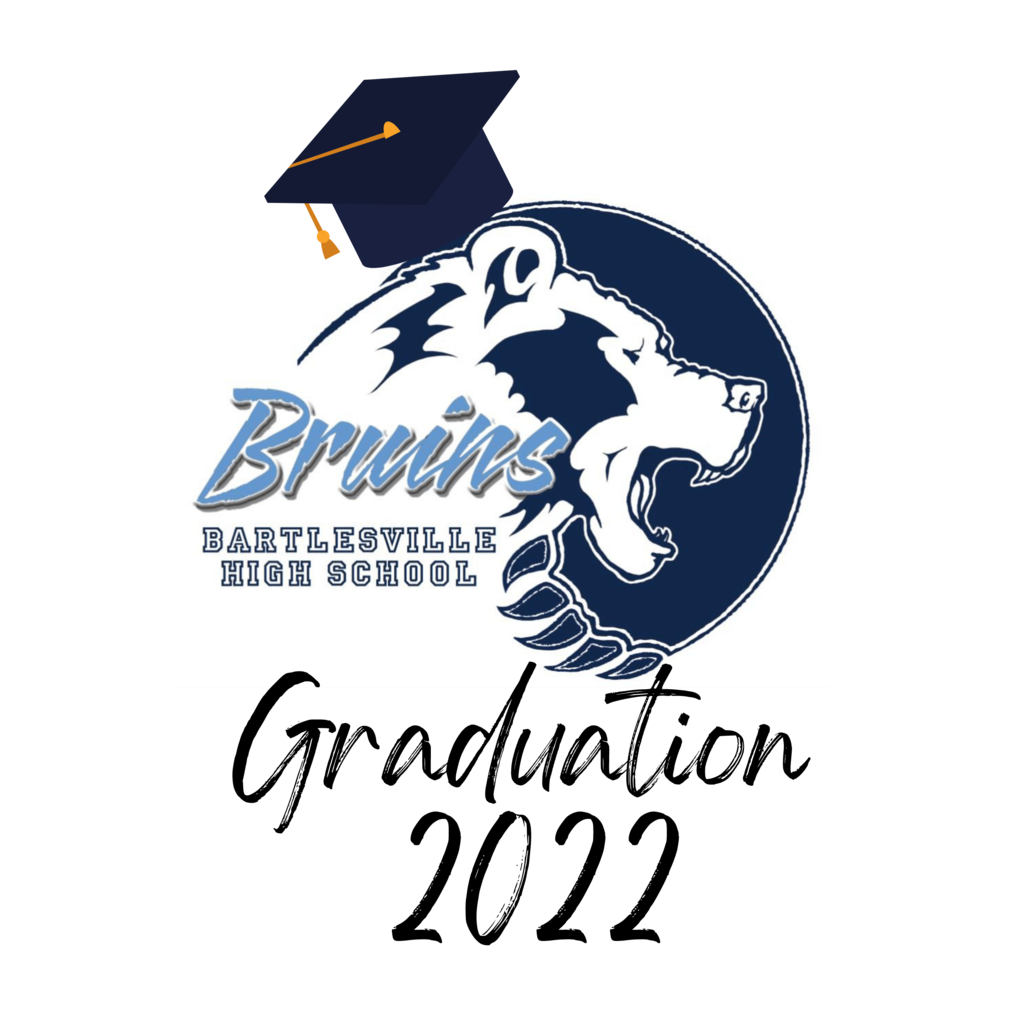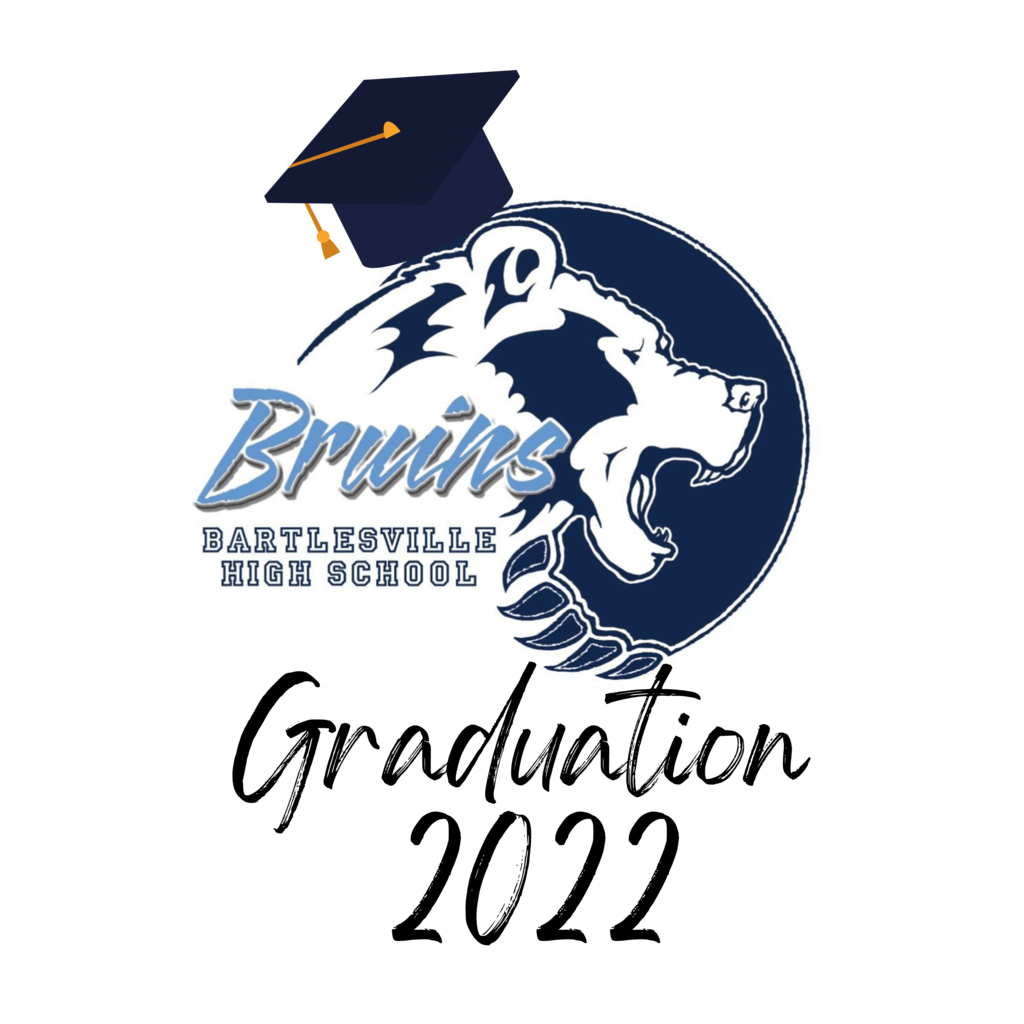 Bruins Volleyball Youth Camp for grades 3-7. #bvillebruwin