At a fun baseball-themed event on Tuesday evening, Amanda Hendrix was named the 2021 Bartlesville Public Schools Teacher of the Year. She teaches AP and College-Bound English to juniors at Bartlesville High School, and was introduced at the event by student Preston Willis. Hendrix received a monetary award from the Schmoldt Family Education Foundation and two Southwest Airlines tickets courtesy of Spears Travel.
Tara Hendrickson, Wayside Elementary School's 2021 Teacher of the Year, was named the "Fan Favorite" at the event, which was held on Rigdon Field at the Bill Doenges Memorial Stadium. The home field of the Bartlesville Bruins baseball team was selected, due to the COVID-19 pandemic, as a safe outdoors environment for the program.
Jayleen Mayes, who teaches English to sophomores and juniors at Bartlesville High School, along with English Language Learners, was named the district's 2021 Rising Star Teacher, an award for teachers with one to four years of experience.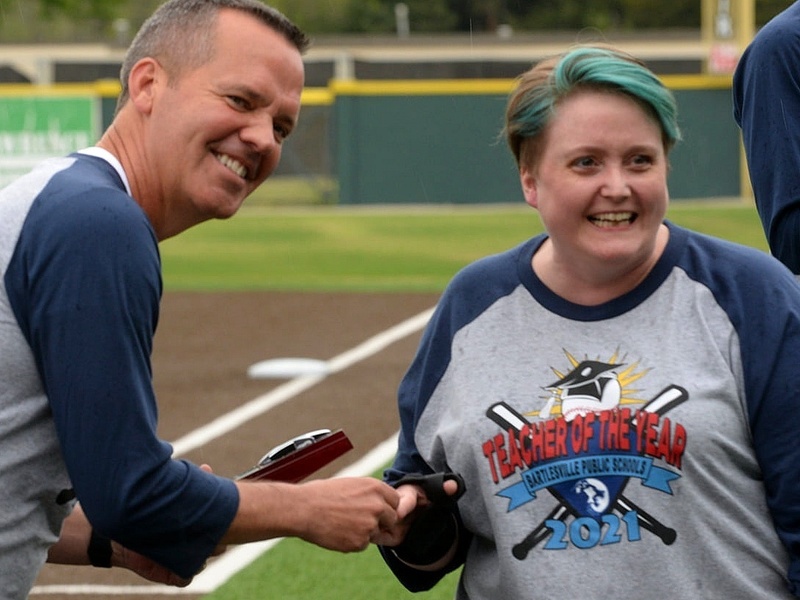 The Teachers of the Year and Rising Star Teachers from each school were honored, with each Teacher of the Year introduced by a current or former student. Service pins were awarded for certified employees with 5-40 years of district service.
The Bartlesville Education Association presented its Friend of Education Award to Kerry Ickleberry (left in photo), the district's Health and Safety Director, in recognition of her dedicated support for teachers throughout the pandemic.
Andrea Jacobs (right in photo), the counselor for the Freshman Academy, received the 2021 Kurt Schmoldt Teacher Appreciation Award.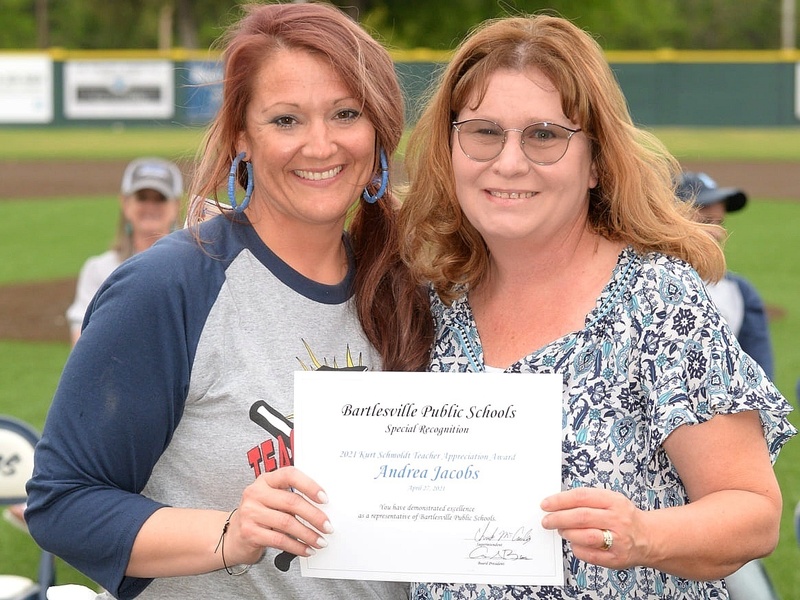 The district's Elementary Schools Rookie of the Year was Jessica Boyce (right in photo) of Wilson Elementary.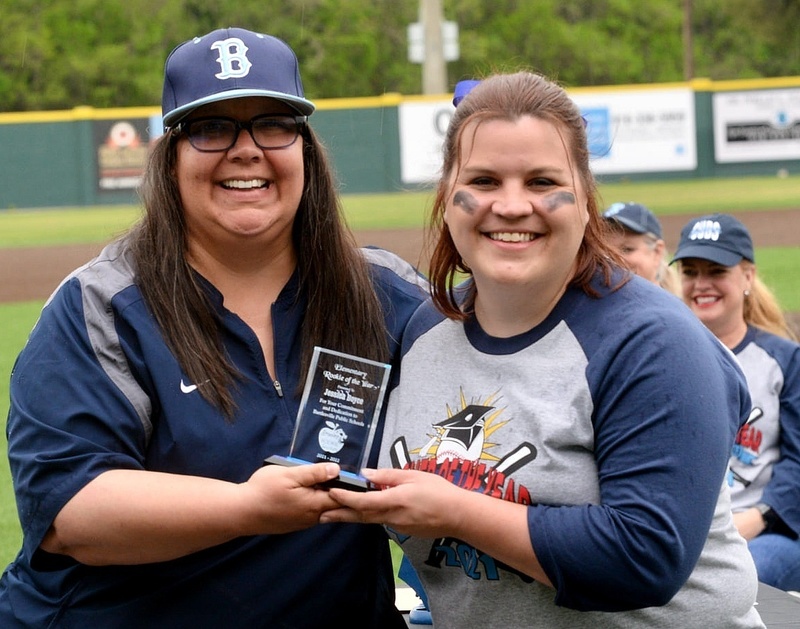 The district's Secondary Schools Rookie of the Year was Anthony Tucker of Bartlesville High School.
The Bartlesville Public Schools Foundation (BPSF) and school district's Professional Improvement Committee sponsored the event. The BPSF shared many event photos on its Facebook page and thanked presenting sponsors Arvest Bank and Patriot Chevrolet; MVP Sponsor ConocoPhillips; Grand Slam Sponsor Diversified System Resources; T-Shirt Sponsor Jim Moore- State Farm Agent; All Star Sponsor Ascension St. John; Home Run Sponsor BancFirst; and Trading Card Sponsor Matt Spence - State Farm Agent. The BPSF and district also appreciate The Schmoldt Foundation for Education, Spears Travel, Chick-fil-A Bartlesville, Bartlesville Child Nutrition, Margie Green and the BHS Jazz Choir, United Linens, Wade Kester, BHS Student Council, Chris Batchelder (announcer), Maria Gus (emcee), Amanda Daniels (t-shirt designer), Amy Lawrence and Eli Winter (for event prep), Trey Stumpff (sound), 3 Bulls UPcycling (COVY and Fan Favorite Awards), and Michael and Cindy Wray (who designed the program, photographed the event, selected the music, and countless other things).
Photo Credits: Michael Wray & Bartlesville Radio News